This is the blog of the 2016 journey of  VCC members Dennis Newton and Kaye Chandler as they travel Route 66 from the beginning at Chicago, Illinois to the end at Santa Monica pier in California.
This is the experience of Dennis Newton and Kaye Chandler driving The Mother Road in their 1999 fixed roof coupe Corvette. After needing to postpone a couple of times due to a granddaughter's high school graduation and senior dance recital and then Dennis's high school reunion, the trip was set for May-June, 2016. Kaye began serious planning about 6 months in advance. We are both engineers, so we are planners – not a lot of winging it. Also, Kaye likes to know that she has a soft place to lay her head at night. We will be more spontaneous on the road.
For inspiration, we recommend the 5 DVD set, "Route 66, Marathon Tour, Chicago to L. A.
Useful resources we found for planning:
http://www.drivingroute66.com/
Route 66 maps by Jim Ross and Jerry McClanahan – Ghost Town Press
http://www.amazon.com/Here-Route-Ross-Jerry-McClanahan/dp/0983935904?ie=UTF8&keywords=route%2066&qid=1463448644&ref_=sr_1_1&s=books&sr=1-1
The Illustrated Route 66 Historical Atlas by Jim Hinckley
http://www.amazon.com/Illustrated-Route-66-Historical-Atlas/dp/0760345430?ie=UTF8&keywords=route%2066&qid=1463448644&ref_=sr_1_12&s=books&sr=1-12
We planned to take a month for the round trip, going to Chicago, driving Route 66 to Santa Monica Pier in California and returning to Virginia via I-10 to visit Dennis's cousin in Tucson. Of course, this meant we needed a reliable house/pet sitter. A neighbor recommended a great person to take care of our cats and our house.
We needed to pack for a month, limiting the amount of luggage, but also the amount of laundry we would need to do on the road. Also, we needed room for an electric cooler so we wouldn't have to worry about ice, our computers, and snacks for the car. Everything fit perfectly in the trunk of our Corvette. We were ready to hit the road!!
May 16 Monday (Lynchburg, VA to Dayton OH)
Left Lynchburg and drove to Dayton Ohio. After multiple east corridor trips to New York, this drive was quite relaxing – little traffic and pleasant country-side. Drive took us about 8 hours. Spent the night at the Hampton Inn Dayton/Huber Heights.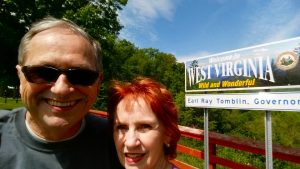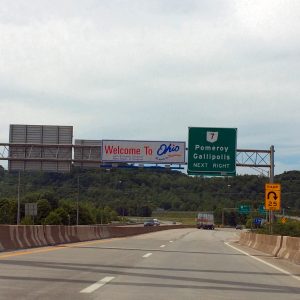 May 17 & 18 – Arrived in Chicago – the beginning of Route 66! Since Kaye had never been to Chicago, we decided to stay a couple of days.  Fabulous view and great location! May in Chicago can still be cold and windy!!
First, we had to have a Chicago hot-dog.  Dennis and I have a tradition of always having a hot dog when we go to a new place. Dave's Dawgs did well! We walked up Michigan Avenue and to the Cultural Center – marvelous building! Such a great public space! Then we went to the sky deck of the Willis (Sears Tower). On our walk back home, we found the beginning (Adams Street) and ending (Jackson Blvd) of Route 66!  Jackson Blvd was the original US 66, but has been one way since 1950's when Adams Street took over the west bound US 66 traffic. We finished the day with deep-dish Chicago pizza at Lou Malnati's. Scrumptious!
On Wednesday, we headed to Lou Mitchell's on Jackson Blvd for breakfast. This is at the Route 66 starting point and yes, you have to eat at Lou's! Oh my! They hand out doughnut holes whiles you are waiting. Great breakfast – we had the eggs and because they were out of sweet rolls, we opted for the chocolate doughnuts – pure heaven! Then they bring you a sample of soft-serve ice cream and of course- the famous Milk Duds! Look up the story of the Lou Mitchell's and Milk Duds on the internet. Glad we opted to go to Lou's on Wednesday when we could walk off some of that food!! Lou Mitchell's was established in 1923 and moved across the street to the present building in 1949. The interior has not been significantly altered since then and is in the National Registry of Historic Places.
After breakfast, we headed to the Art Institute. Generally, not Dennis's favorite activity, but he went along. One of our favorite exhibits was the Thorne Miniature Rooms – a very popular exhibit. The artist made scale replicas of American and European rooms from the 1700's through the 1940's. The doors and windows showed views into an adjacent room or outside. In an American room from the 1940's she had a lamp – complete with a tiny cord plugged into an outlet in the wall – attention to detail!
We enjoyed a walk through Millennium Park – enjoyed the reflective "bean" and strolled along the lake. We ended the afternoon at Lawry's for a prime rib sandwich – recommended by our daughter, Laura and her friend, Kevin. One final stop at the Chicago Public Library – couldn't resist the gargoyles. Another wonderful public space! Dennis found a couple of Kim Newton Fusco's, his niece, books! Great author for tweens (and adults).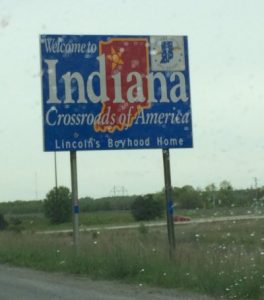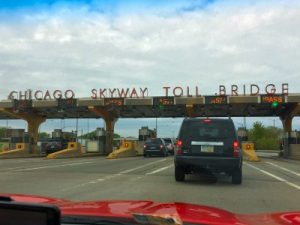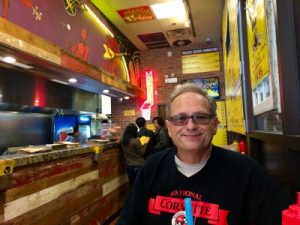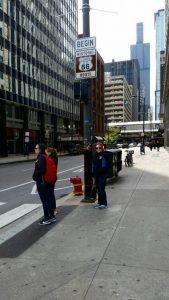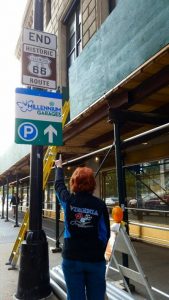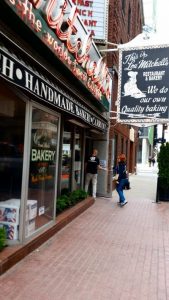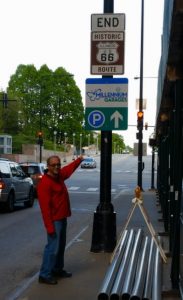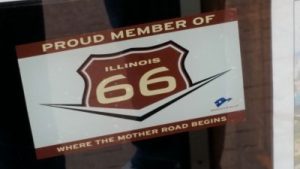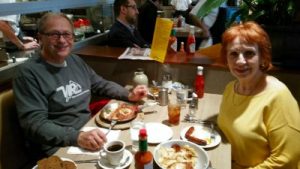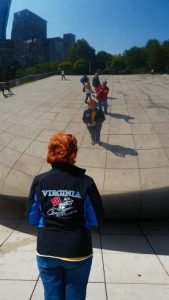 May 19 Thursday (Chicago, IL to Springfield, IL)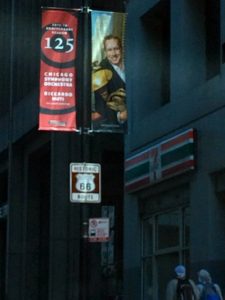 We start the Route 66 journey!! After breakfast at the Yolk, we head up to Adams Street and out of Chicago about 10:30 AM. In Joliet, we stopped to visit the Joliet Museum. We probably spent a little too long there, but the museum was very interesting. The prison at Joliet was featured in the film Blues Bros'. We enjoyed the 1962 Corvette in the lobby!  We stopped for a photo op at the Gemini Man in Wilmington, Illinois.
We took the "newer section" of Route 66, but took a photo of some of the original Route 66 highway. Route 66 is called "America's Main Street" with good reason. We drove down the main streets of numerous small towns today. You see the region very differently than driving down an interstate.
We stopped in Pontiac and had a late lunch/early dinner at the Old Log Cabin in Pontiac, Illinois – a classic 1926 roadhouse. Wonderfully friendly people and great food. They have all their customers that are passing through on Route 66 sign a book.
Went to the Route 66 Museum in Pontiac. Lots of photos from Route 66 across the country. Made a pit stop at Dixie Trucker's Home in McLean, where we had to "detour" to I-55 due to road repair on Route 66. Stopped for the night outside of Springfield. Decided to bypass visiting Springfield and going straight on to St. Louis tomorrow.
Total time on road about 8 hours. The miles do go slower than we anticipated and so many interesting things to see.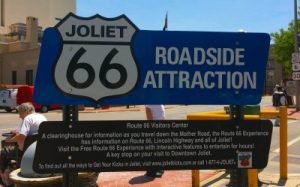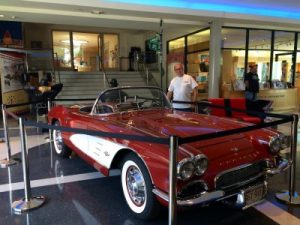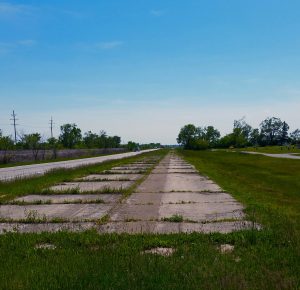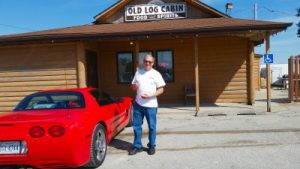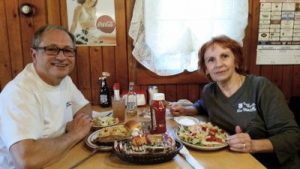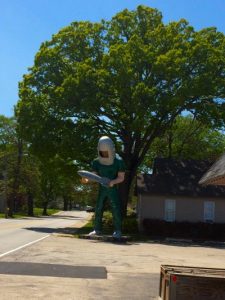 May 20, Friday (Springfield, IL to St. Louis, MO)
We decided to take the 1926-1930 Route 66 that follows Hwy 4. The road was a little rough, but quite passable. Between Chatham and Auburn, we drove the rare 1.4-mile stretch of brick road.
We stopped in Virden to get some photos of the square which has the Battle of Virden Monument memorializing a bloody struggle between coal miners and mine owners back in 1898. A friend of ours grew up in Virden.
In Nilwood is 13 star flag painted on a barn which is a prime example of barn art.
West of Nilwood, we found the turkey tracks in the concrete. One story is they were made by a flock of domestic turkeys who had gotten away from their owner. The other story is they were made by wild turkeys. Either way, it was an interesting site. The location was well-marked. We wondered if the locals tired of people asking where the turkey tracks are –there were home-made signs and even a wooden turkey at the site.
At Carlinville, we cut across Hwy 108 to catch the post 1930 section of Route 66 and to have lunch at the Ariston Café – considered the oldest café on Route 66. The proprietors were super-friendly, offering special photo ops. We had the soup and salad bar to make sure we would have room for the fantastic desserts! We shared two – a lemon delight and a toffee pudding, which was a date cake with hot toffee sauce. Wow!!!
Took photos of the restored Soulsby Station in Mt Olive, which dates from 1926 and the Luna Café in Mitchell. The Luna Café was a hangout for Al Capone and other gangsters. The neon sign had a cocktail with a cherry that was lit when the ladies upstairs were available.
We stopped on the Illinois side of the Mississippi to see the Chain of Rocks Bridge. Decommissioned from vehicular traffic, but a favorite spot for hiking and biking. The bridge makes a 20-degree angle, which must have been an interesting drive.
We were delighted with the Forget-Me-Not B&B in St. Louis. Beautiful Queen Anne home and wonderful hosts! We arrived too late to get to the Arch, so we made reservations for the morning and spent the last of the day-light to do a walking tour of the historic neighborhood.
Again, we are amazed at the wonderful small towns. Each one seems to be a perfect place to live. Small town America is a wonderful thing!
Total time on road about 7.5 hours. I am including the time we spend on the road, because I haven't seen that in the books and it would be very useful to know.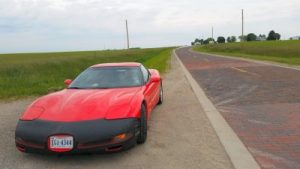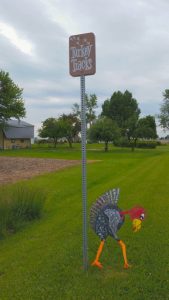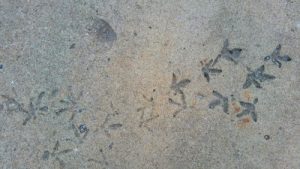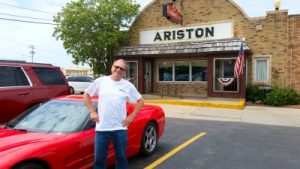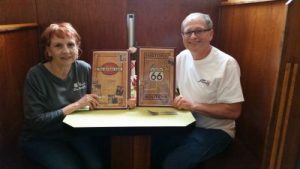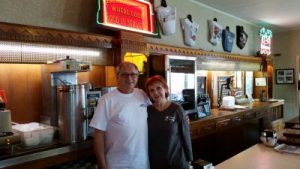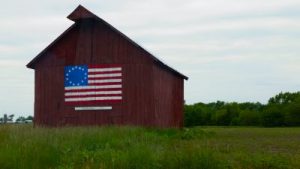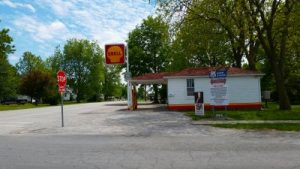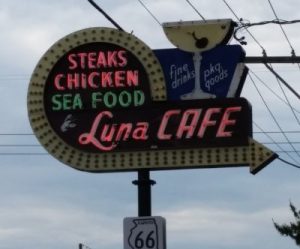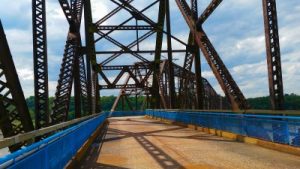 May 21 Saturday (St. Louis, MO to Cuba, MO)
Spent the night in St. Louis, MO at the Forget-Me-Not Bed & Breakfast. Convenient to Route 66, wonderful old house with well-appointed room. Hosts were super friendly and helpful and provided a great breakfast of fruit, juice, bacon & eggs, and these marvelous Danish puff pastries.
We got up fairly early and headed over to the Gateway Arch. Visited court house where Dred Scott case was heard then took the tram to the top of Arch, which was an adventure in itself. View was unbelievable! Next stop was Drewes Custard on Route 66 for a milkshake. Supposedly you can turn it upside down and it won't come out of the cup because it is so thick. We didn't try it – didn't want to take a chance on wasting a single drop. I think it was the best milk shake I have ever had.
We took a detour off Route 66 to visit the last home of Daniel Boone. Kaye is a descendent of Daniel Boone's brother, Israel Boone, so it was a special interest stop. Also a beautiful drive. We caught Route 66 again in St. Claire.
Stopped to take a photo of the Bourbon, Mo water tower. Check out the photo!
Stayed at the Wagon Wheel Motel in Cuba. This is a MUST-STOP! Cottages have been refurbished, but still maintain their historic Route 66 flavor. We had Cottage 16, which had a sitting area with a black vinyl lounge chair and bar-table and stools. The bed was one of those old "magic fingers" beds and it still worked. Not quite like you imagine from the old movies, but still fun!
Had dinner next door at the Missouri Hickory Bar B Q – complete with an apple dumpling and ice-cream for dessert. To work it off, we walked through Cuba admiring the Murals. Locals were helpful and glad to see us.
We had left B&B about 9:30 AM and arrived in Cuba about 6:30 PM – Day was mostly sight-seeing rather than driving.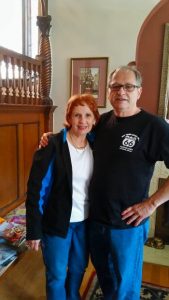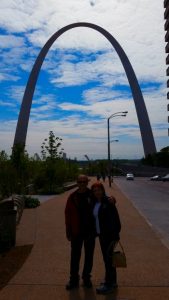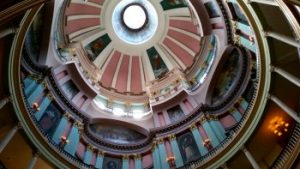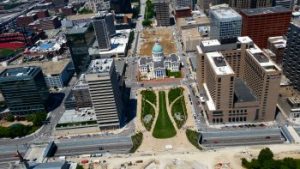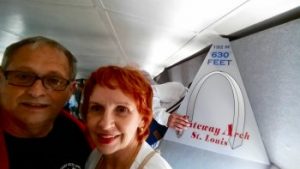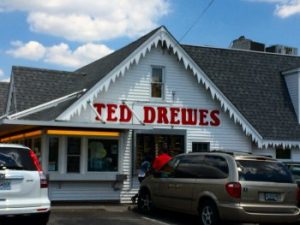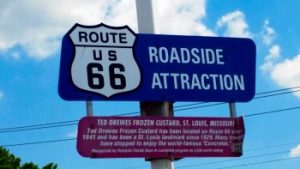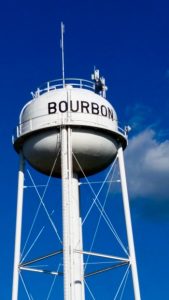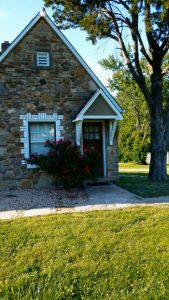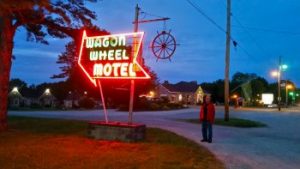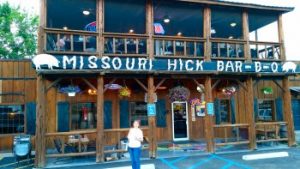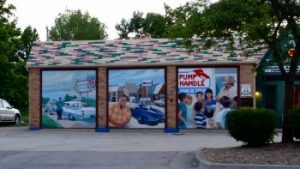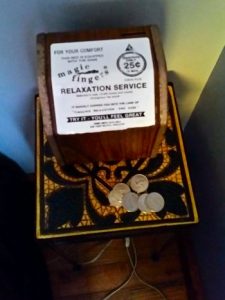 May 22 Sunday (Cuba, MO to Carthage, MO)
Driving Route 66 is one long scavenger hunt! Whether it is turkey tracks in the road or a big red rocking chair, it is so fun to find the landmarks. We haven't caught them all, but have been pretty successful.
Today we found the big red rocking chair, guarded by two very sweet cats. We also caught the large bowling pin under the adult superstore sign – there is a bowling alley there – it's not a euphemism.
One of the highlights today was the Devil's Elbow Bridge – beautiful view. Don't you love the old bridges where you can actually see the water?
The dinosaurs at Uranus caught Dennis's eye and the fudge caught Kaye's. Neat store – we got our sugar fix today.
Our schedule didn't work out to stay at the Munger Moss Motel, but had to stop for a photo op. The place looked very inviting, so if it is convenient for your schedule, don't pass it up.
We mainly stayed on the by-pass section of Route 66 today, so the miles went a little faster, though still an adventure and very different from interstate driving. We left the road early today to catch the drive-in theater in Carthage, MO.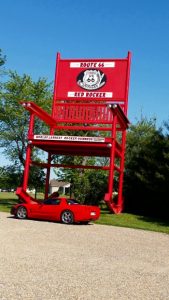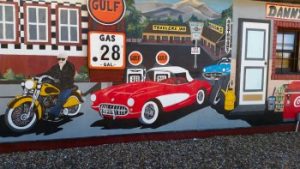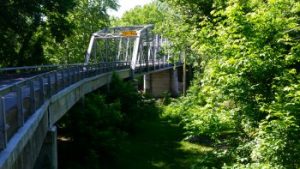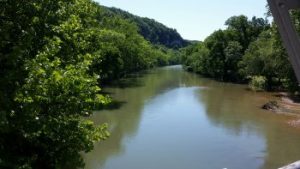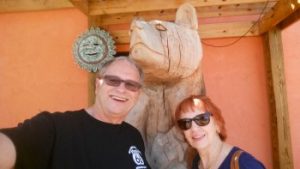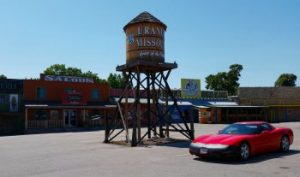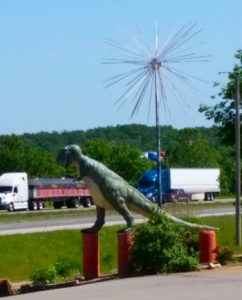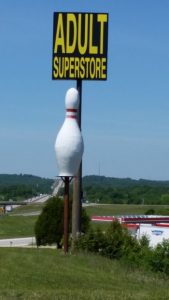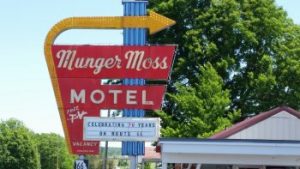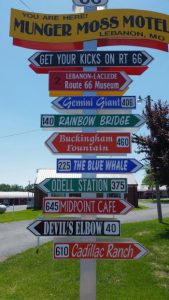 May 23 Monday (Carthage, MO to Tulsa, OK)
We enjoyed the Route 66 Drive-in Theater in Carthage last night where we saw The Jungle Book. Didn't stay for second feature – Zootopia. Worn out.
Caught a photo of the classic Boots Motel, world famous for its architecture, neon, and history. It is in the process of restoration and would be an interesting place to stay. Maybe next time.
Several Giants today! The Giant crayon at the West Central Elementary School and the Giant Coke Bottle at Woody's – both in Webb City, MO.
We enjoyed our short stop in Galena, Kansas at "Cars on the Route" where we saw "Tow Tater" the inspiration for Mater from the movie Cars. The host also filled us in on the Galena Murder Bordello across the street. The mining company built the house for the madam to service the miners. The madam and her two sons would kill a miner, take his money, and dump his body down the mine shaft. Supposedly very haunted house and has drawn the attention of several professional ghostbusters.
We drove over the Rainbow Bridge outside Riverton, Kansas. This is the last of three "Marsh Arch" bridges – named for the designer. Old bridges are a special treat along Route 66 – each one so unique.
On to Oklahoma! We saw the Giant Ku Ku at Waylan's Ku Ku Burger, but didn't get a photo. Did manage to get the restored 1929 Spanish mission-styled Coleman Theater.
We were very adventurous and took the pre-1937 option south from Miami where there are remnants of the famous 9-ft (wide) highway – also called the sidewalk highway, first paved in 1922. I was driving and I only got out of 1st for short stretches because the road was rough. It was definitely worth it though to see this section of the original road.
We had lunch at Clanton's Café – owned by the same family since 1927. Great hamburger.
We stopped to get photos of the Blue Whale, but it was raining pretty steady, so didn't get out to explore.
Spent the night in Tulsa at the Campbell Hotel, which was the old…., built in 1927 and restored and reopened as the Campbell in 2011 – on the National Register of Historic Places. This hotel was fabulous! Each room is uniquely decorated in period style. Definitely a great place to stay!
We did a walking tour of the Art Deco buildings in downtown Tulsa, then back to the hotel for appetizer and soup at The Maxwell Restaurant.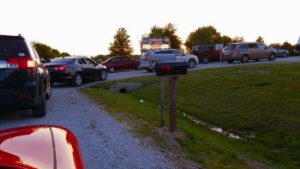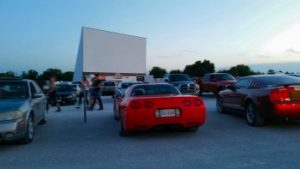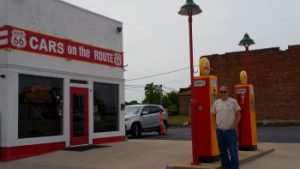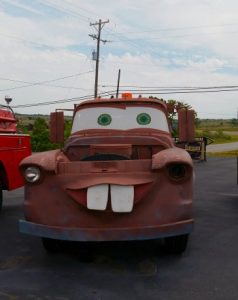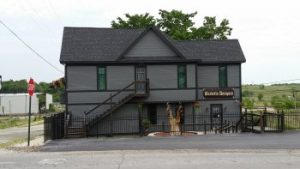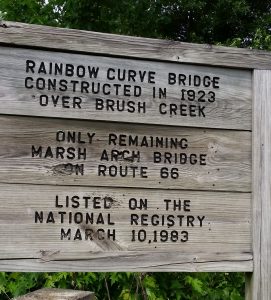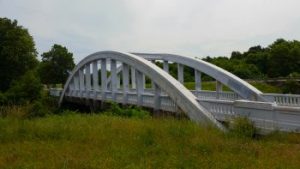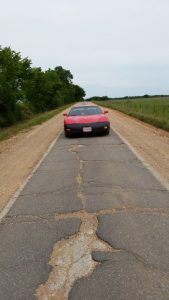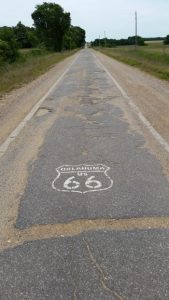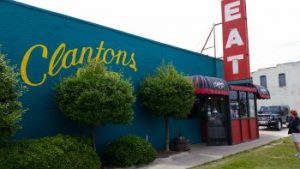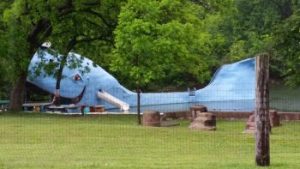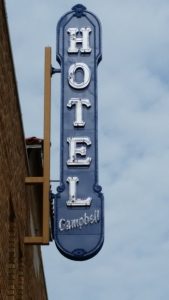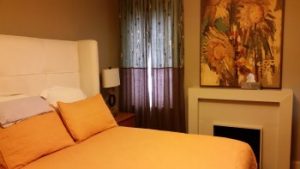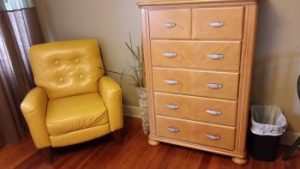 May 24, Tuesday (Tulsa, OK to Weatherford, OK)
First destination was the Cyrus Avery 11th St Bridge, a 1916 art Deco concrete bridge that still spans the Arkansas River, but is closed to traffic. Then we stopped to see the Frisco 4500 steam engine and train cars and the 194 foot tall oil derrick.
Found the Giant Coke Bottle at the tribute to Salpulpa Industry and Workers.
For the most part, we stayed on the post 1937 route today, which is some 4-lane, and some 2-lane, but mostly good road. We did explore a couple of short sections of the old pre-1933 Route 66.
Great photos of the Rock Café – circa 1939 – a Route 66 landmark built of native stone and is back open after being closed for a while. So many diners and just can't eat at them all!
In Davenport, we took a short stretch on the old road that is paved with brick.
Had meant to get a photo at the Welcome to Chandler sign, but missed it. Oh well, didn't want to back-track. We did get a photo of the classic 1939 Lincoln Motel.
In Arcadia, we explored the 1898 Round Barn. The farmer thought tornados would go around the round shape so stand up to tornados better. No scientific evidence, but it is still there.
Caught the 66 foot tall Pop Bottle at Pops. Supposedly, they are hundreds of soft drink flavors. We had already gassed up and had a cooler full of drinks, so didn't stop.
We crossed the Chisholm Trail today and the watering hole where they used to stop to water the cattle. Just like Rawhide. Showing my age.
One section of the old road went along Lake Overholser and we crossed a 1924 steel truss bridge.
The other section of the old road that we drove today crossed the Pony Bridge, built in 1933 near Bridgeport, OK. It has 38 "pony" (small) trusses to cross the South Canadian River.
Stopped for the night in Weatherford, Oklahoma and had dinner at Lucille's Roadhouse. The original Lucille's was built in 1927. Lucille Hamon, who was considered the mother of the Mother Road, died in 2000. In 2006, the new Lucille's Roadhouse was opened to honor Lucille Hamon. Great food –actually had some real vegetables tonight .
Sorry for other people, but glad we dodged the tornadoes.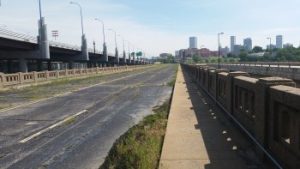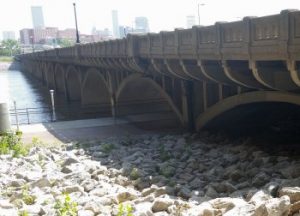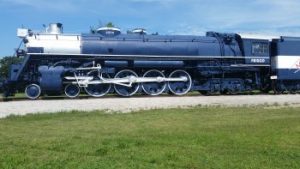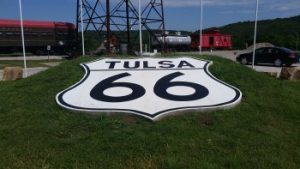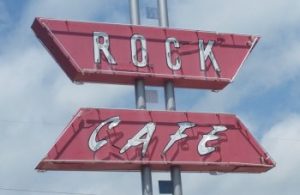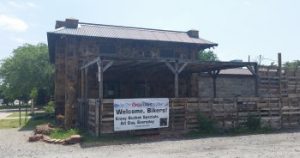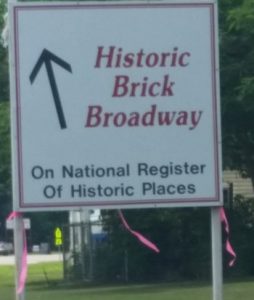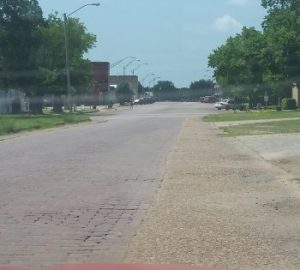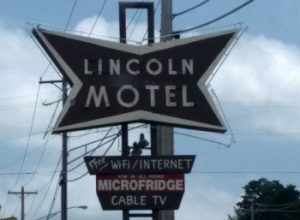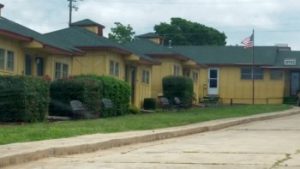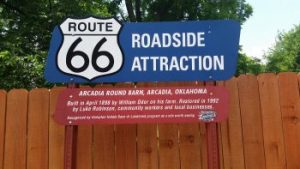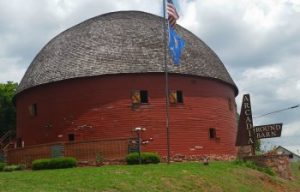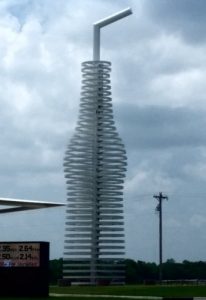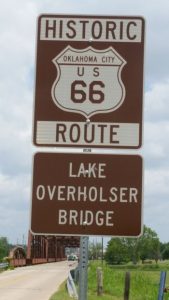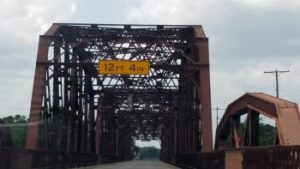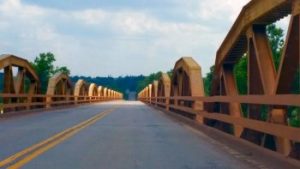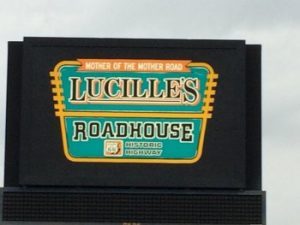 May 25 Wednesday and May 26 Thursday (Weatherford, OK to Amarillo, TX and Amarillo, TX to Tucumcari, NM)
Ok – the blog is taking more time than I thought it would, but will try to continue to post at least the highlights of our trip and add some later.
Our first stop today was at the National Route 66 Museum in Elk City, OK. Great museum complex with 4 different museums. The Route 66 museum displays the history of the route from the native Americans to the current day. Through Oklahoma and Texas, most of Route 66 is the frontage road to I-40 – as you can see in one of the photos. It was challenging to stay on Historic Route 66 going 45 or so with the interstate 10 feet over where we could go 70+. So…. We cheated some. Still caught some of the old parts of the road and spent at least parts of the day on the Route.
We crossed the Timber Creek Bridge – a thru-truss span bridge built in 1928. We were able to get a photo or two of parts of the road that are now closed to traffic.
We had a late lunch at the Big Texan Steak Ranch. Great steak and experience. Everything is bigger in Texas. We did not try to eat the 72-oz steak dinner. Our server told us the record is held by a 120-lb woman that ate 3 of the dinners in less than an hour.
We explored the historic downtown and the historic Route 66 district of Amarillo, TX. This area has lots of restaurants and antique shops, so if you have time, eat and shop to your heart's content.
We almost missed the Cadillac Ranch, except for the cars parked by the road. The Caddies are a ways off the road in a field. Lots of spray paint!
Lunch on Thursday at the Midpoint Café in Adrian, TX, which is considered to be midway between Chicago and L.A. on Route 66. The hamburgers were fabulous!!! Owners and other guests were very friendly. We met another Corvette couple from Illinois!
Russell's Travel Center at Exit 369 in New Mexico which features a Car Museum. First exhibit was a 1958 Corvette. The museum is a fabulous collection of cars, toys, celebrity memorabilia and pretty much anything else you can think of.
We are spending the night at the historic Blue Swallow Motel (Court) in Tucumcari, NM. The owners have done a fantastic job of maintaining the original character of the motel. Rooms are small, but tastefully decorated. Bathrooms are original – makes us feel like home since our baths were remodeled in the 1920's. Even our Corvette has a little home away from home!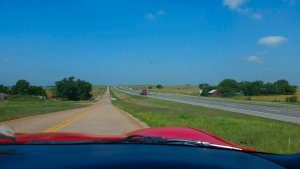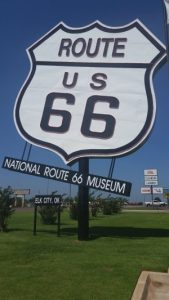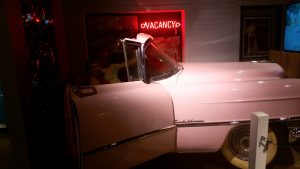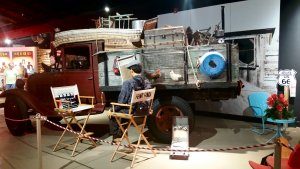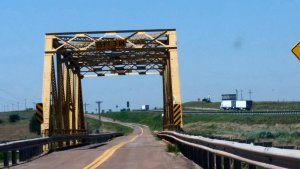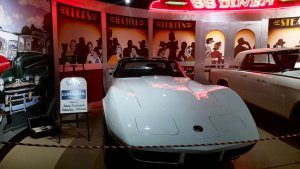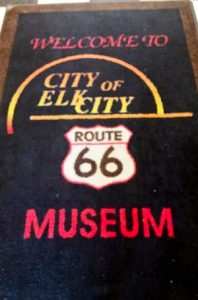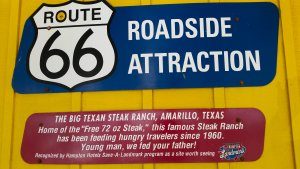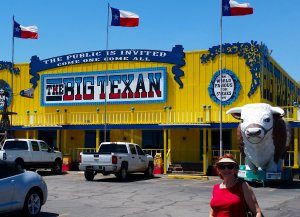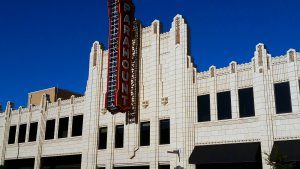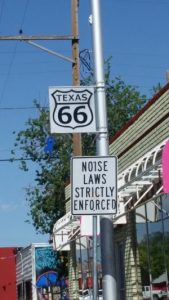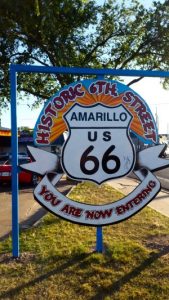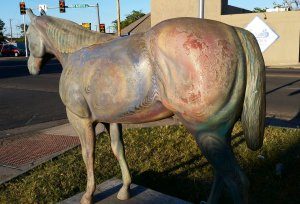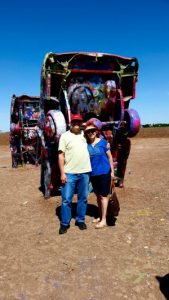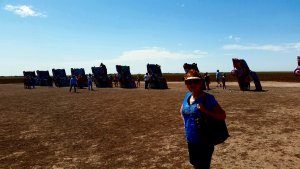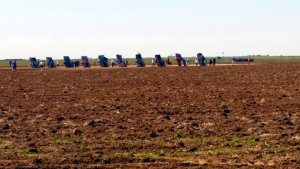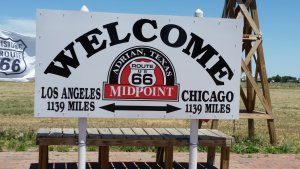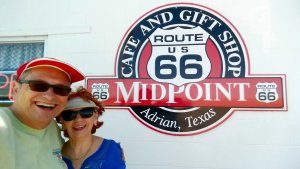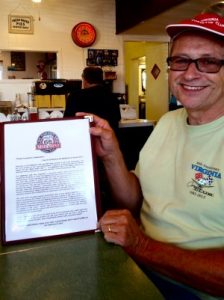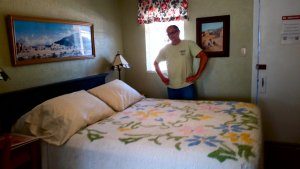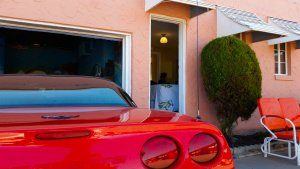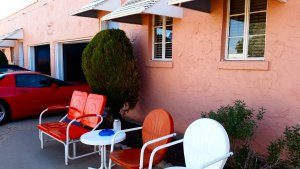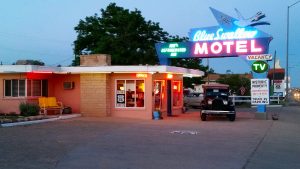 May 27 Friday (Tucumcari, NM to Albuquerque, NM)
Much of Route 66 is the frontage roads or on I-40 in New Mexico or it is dirt, impassable or on private land. We decided not to try any of the dirt sections with the Corvette. Since the view from the frontage roads is pretty much the same as on I-40, we stayed on the interstate and then took the Route into some of the small towns.
First stop of the day was Santa Rosa to visit the Route 66 Auto Museum. The collector had four VERY special Corvettes on display as well as many other "less special" cars like Mustangs (LOL). Then we saw The Blue Hole, a deep natural spring.
We debated whether to take the old Route, which follows I-25 through Santa Fe or the later Route that follows I-40. We split the difference and took the I-40 section to Tijeras and then cut through on NM Hwy 14, which has been listed in the top 10 scenic highways in the U.S. Then we hit the I-25 south of Santa Fe and caught a good section of the old Route at Algodones into Albuquerque. We had dinner in the Old Town with a high school friend of Kaye's and his partner. Then we drove around the Old Town and down Route 66.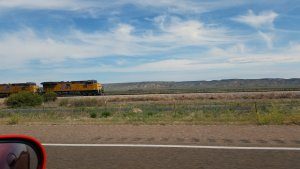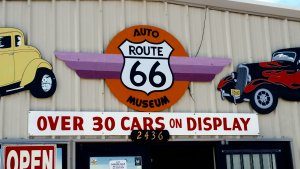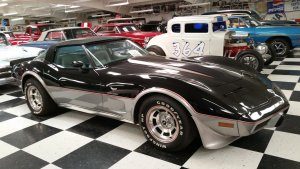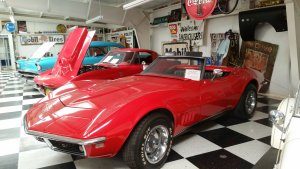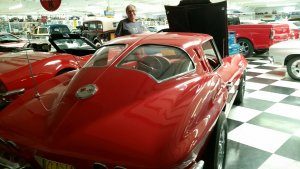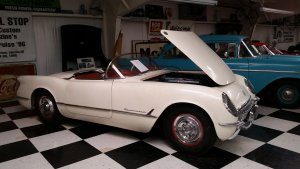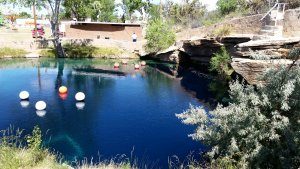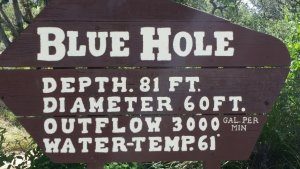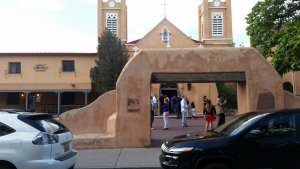 May 28 Saturday (Albuquerque, NM to Holbrook, AZ)
Got an early start, but wanted to get pictures of the KiMo Theater and ended up in the wrong direction out-of-town. Kaye saw the mountains and then noticed the GPS said we were traveling east – not west! So we lost some of our early start back-tracking. Route 66 in Albuquerque is a happening place, so at least it was an interesting drive and we got to see it both ways.
We stopped in Rio Puerco to see the 1933 Rio Puerco Bridge. The old bridges are still fascinating.
We went through Mesita – a road-runner ran across the road in front of us! No time to get the camera before he was gone, but it was exciting to see one. Next up was dead man's curve. We survived since Dennis didn't do anything stupid.
The lava beds around McCarty's were readily visible from the highway.
We stopped for lunch in Gallup at Earl's Family Restauran – on the Route since 1947. Very busy, but good food and lots of it. We wanted to see the Galloop – a giant metal loop sculpture because Kaye's friend in Albuquerque was the structural engineer for the sculpture. Somehow we missed it and didn't want to back-track again because we wanted plenty of time at the Petrified Forest. But try to find it when you go through Gallup on the Route. It looks like a graceful giant Hot Wheels race track.
The Painted Desert and Petrified Forest were impressive. You can drive through the Park, stopping at marked sites. It was really an amazing site! We took way more photos than we are posting on the blog. The original Route 66 went through the Painted Desert north of where I-40 is now. Today, there is a marker and display where part of the road was, but the rest of the road has grown over and is only a memory.
This was the big night for us – the Wigwam Village in Holbrook! The room was actually quite large, except for the bathroom, and had original heavy wood furniture and old lamps. Convenient to back the car right up to the door and parked beside an antique Chevy, which was one of many antique cars on the property. The bathroom was very small and the amenities were very basic, but we had a lot of fun sleeping in a wigwam. Definitely made you feel like you were "on the Route." Every wigwam was taken the night we were there and everyone was friendly.   Give it a try.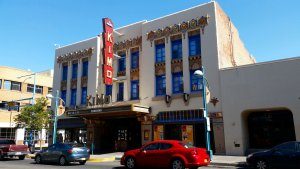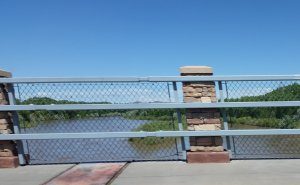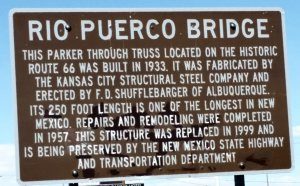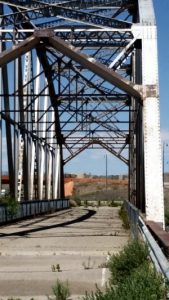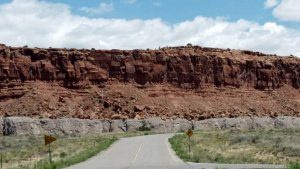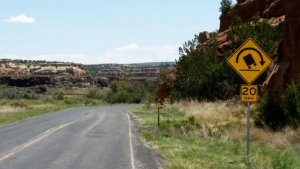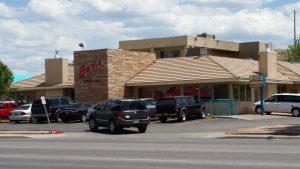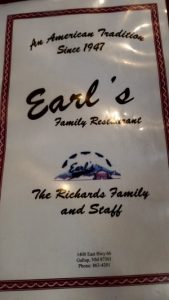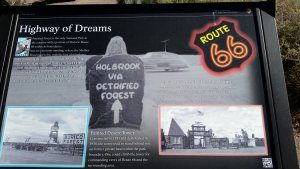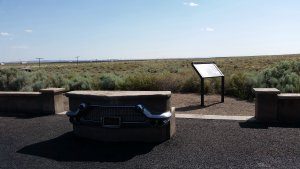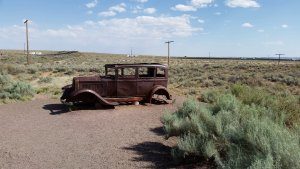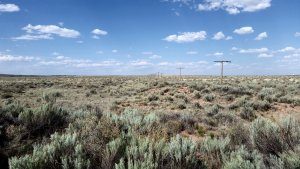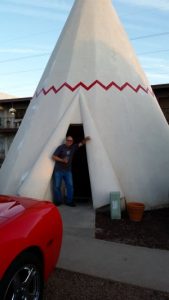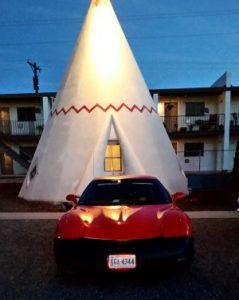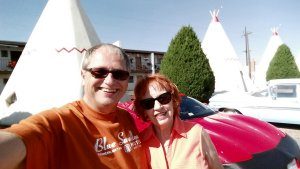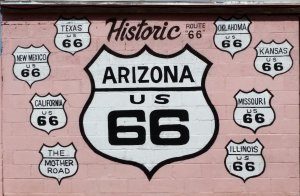 May 29 Sunday (Holbrook, AZ to Flagstaff, AZ then side trip going north to Kanab, UT)
We "took it easy" and stopped in Winslow, AZ to see the "Standing on the Corner" statue – based on the song by the Eagles. Interesting downtown – lots of shops and everyone friendly to people driving the Route.
Next stop was Meteor Crater. This is a huge crater – words and photos don't really impart how large this hole is. The visitor's center has fabulous exhibits – great place for kids with lots of hands-on.
We got back on the Route and headed up to Kanab, Utah at Flagstaff, AZ after Winona, AZ with short section of Route 66 with an old iron bridge. We are spending a few days in Kanab to visit Zion, Bryce, and Grand Canyon and will pick up the blog again on Thursday when we return to Route 66.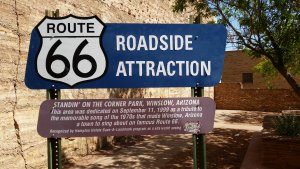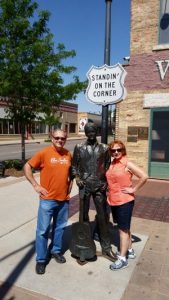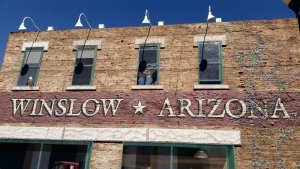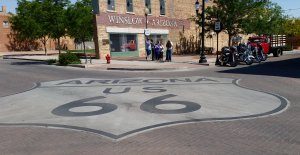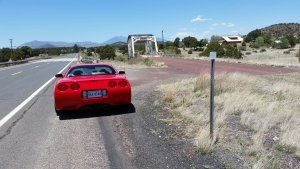 June 2 Thursday (return to Route 66 at Williams, AZ from side trip, then to Needles, CA)
We did Bryce, Grand Canyon North Rim, Zion, and Grand Canyon South Rim – crammed it all in, including hiking at Bryce and Zion, a mule ride into the Grand Canyon at the North rim, and sunrise at the South Rim. We stayed in Kanab, Utah for 3 nights, which was conveniently located to Bryce, Zion, and the North Rim. Then spent one night in the Yavapai Lodge at the South Rim. If you haven't been to any of these National Parks, don't pass up this detour off Route 66. You won't regret it.
We left the South Rim and headed south on Route 64 to Williams, which meant we missed Route 66 between Flagstaff and Williams.   You can also take Hwy 180 off Route 64 back to Flagstaff to pick up Route 66.
Between Williams and Ash Fork, we stayed on I-40 because most of Route 66 along that section is dirt, impassable, or on private land. At exit 139, we left I-40 and picked up Route 66 into Seligman. This little town is capitalizing on Route 66 – tour buses and all. The road is a great stretch of Route 66 with restored Burma Shave signs. We decided we wouldn't stop for lunch at the Roadkill Café in Seligman – guess we are just not that adventurous (LOL).
Our tire pressure sensor showed high tire pressure, so we stopped at an auto parts and service place in Kingman, AZ to get a pressure gauge (Dennis forgot to bring one). Lady loaned Dennis a gauge and gave advice about checking pressure in morning and again in the afternoon when the outside temperature starts maxing. It was about 110 degrees that day. She also told us where to find a Napa store to get a pressure gauge since they didn't sell them.   Before going to Napa, we went to Mr D'z Route 66 Diner. Definitely a "must stop." We got the "Harley Hot Dog." Dennis had a root beer float and Kaye had a vanilla shake. Highly recommended!
After leaving Kingman, we took Route 66 over Sitgreaves Pass. I take that back about being adventurous – this was definitely an adventure. Twisty, mountain road – hairpin curves and shear drops. Interesting stone or cable guardrails, when there actually was a guardrail. Over the mountain is Oatman, which is a gift shop mecca that also capitalizes on Route 66. Interesting town with wild burros in the streets.
Finished the day crossing the Colorado River into Needles California. Missed getting a photo of the Old Trails Arch Bridge, which was on the driver's side. It is difficult to catch it all.
Swimming pool felt really good at the end of the day. Heat was oppressive even if it is a "dry heat."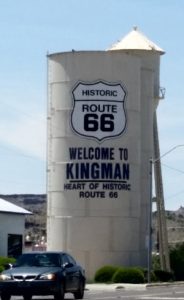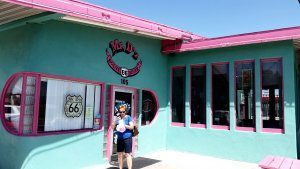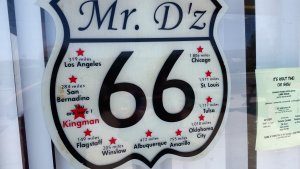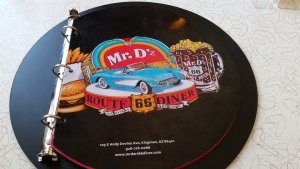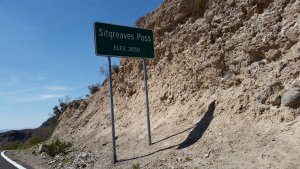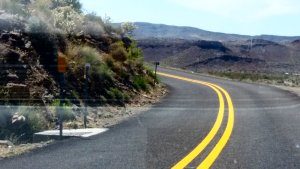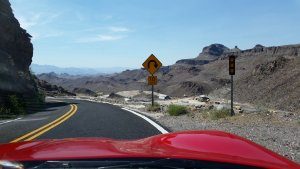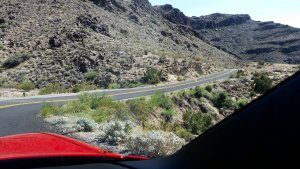 June 3 Friday (Needles, CA to Victorville, CA )
Generally, we have been hitting the road about 9 or 10 AM, taking a casual morning. Today, we hit the road at 8 AM to get an earlier start across the desert. We considered skipping Route 66 through the desert. We were so glad we changed our minds. The road was generally in good condition and the drive was stress-free. We only bypassed Route 66 from Newberry Springs to Barstow because of current road repair on Route 66. Route 66 passed through Pisgah Crater lava field, which was an other-worldly landscape. Made a pit stop at Roy's Café in Amboy, newly reopened. We have tried to support local businesses along the Route – especially in some of the places that are struggling to stay on the map.
Stopped for photo op at Bagdad Café in Newberry Springs, only to become a photo-op for travelers on a tour bus! (We also came out of the hotel in Kanab, Utah one evening to see a girl having her photo taken in front of our Corvette!)
We stopped in Barstow for the Route 66 Museum, which is in the same building as the Western America Railroad Museum and a Harvey House restaurant that is in the process of restoration. The original light fixtures in the Harvey House were fabulous! Speaking of railroads, trains move the southwest. We have seen the longest trains and today we counted eight engines for one train. That was a record – most have four or four in front and two in the back. We loved the Route 66 Museum in Barstow – friendly, helpful staff and free!
In Helendale, we found the Newton's Towing sign with its large parrot and low gas prices – 18.9 cents for regular. Also in Helendale was Elmer Long's Bottle Tree Ranch. You will have to see the photos we took! This was another "must stop" for us. Loved it!
We crossed a 1930 modified Baltimore truss bridge across the Colorado River – it has been interesting to follow the Colorado on our trip.
Because of the heat, we checked into our hotel in Victorville, CA before going to the Route 66 museum. Good, but we both agreed the one in Barstow was better organized. Maybe it was just that because we went to the museum first, we missed getting to Emma Jan's Holland Burger before they closed. And we were hungry! Disappointed.
Tomorrow will be our last day on the Route.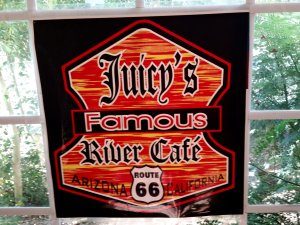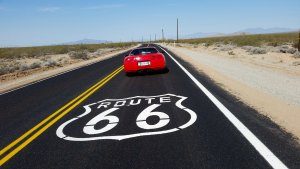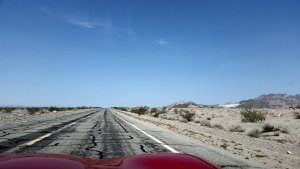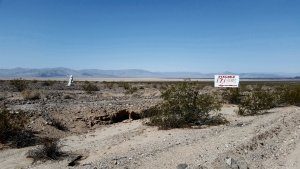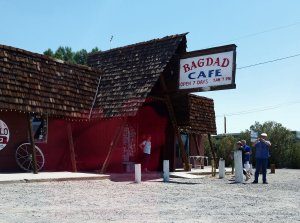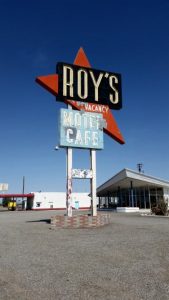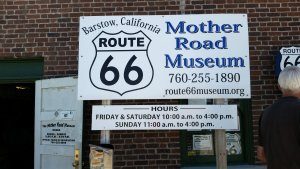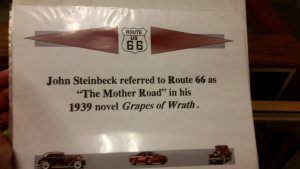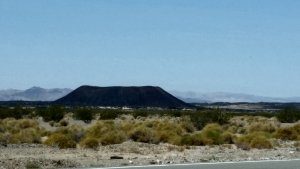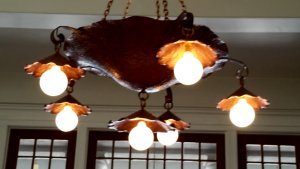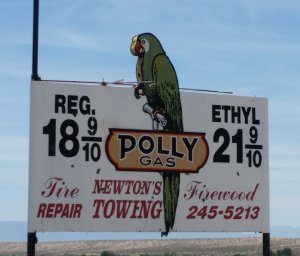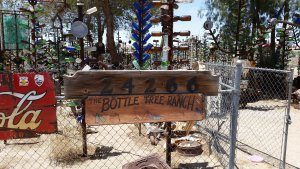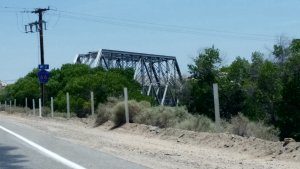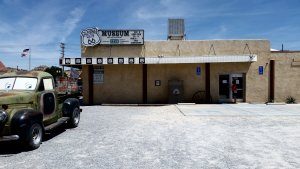 June 4 Saturday (Victorville, CA to Santa Monica Pier, CA)

Our last day on Route 66 was the only stressful day. The Los Angeles traffic lived up to its reputation. It took us about 5 hours to drive 76 miles. We missed the exit for Cajon Summit but took Route 66 at Cajon Blvd. The EV route 66 said this intersection was being rebuilt and this was true; however, we easily found the Route. Check maps before you get to the intersection. We drove through San Bernardino, Rialto, and Fontana through heavy traffic. Due to a shooting in Fontana, we were forced to detour, but picked up the Route again in Rancho Cucamonga.
We passed the Wigwam Motel in Rialto. This one is very close to the major street with heavy traffic, but does have a park-like grassy area around the wigwams. Do plan to stay in either the ones in Holbrook or the ones in Rialto. Everyone should sleep in a concrete wigwam at least once in their lifetime. You could do both and then you would have a good comparison. The Wigwam Motel in Holbrook does have the classic cars, so that was definitely a plus.
We didn't find the Virginia Dare Winery in Rancho Cucamonga – it has been turned into a business center, so may no longer be marked as the winery. We did want to get a photo, so were disappointed we didn't find it. Not disappointed enough to face the traffic to backtrack!
In Upland, we did backtrack to get a photo of the Madonna of the Trail, which honors the pioneer women who did "Route 66" with a covered wagon. This is the last of 12 monuments erected along the National Old Trails Road, part of which is Route 66. This is the only one we managed to photograph.
We did find the Big Boot at the Golden Spur and Flappy Jack's Pancake House in Glendora. Also the Aztec Hotel in Monrovia.
We continued through Pasadena and then the trip got really stressful as we hit the Arroyo Seco Parkway. Since we had driven the Sunset Blvd – Santa Monica Blvd when we were in California a few years ago, we decided to just take I-10 into Santa Monica, hoping to miss some of the stop-and-go traffic. That was not the case. Traffic was even worse – essentially a slowly moving parking lot and the beach area was insane! No parking – a multitude of cars and people. So our celebratory photo was taken through the back window. All we wanted at that point was to get a confirmation photo and get out of there! It was very different the last time we were at Santa Monica Pier a few years ago.  Lesson – don't schedule the end of your Route 66 trip on the Saturday of a holiday week or probably any day of a holiday week.  
Except for the first day, we drove about 5-6 hours, including stops. We learned the museums take at least an hour each and there are many along the way. You have to pick and choose unless you have unlimited time.   Same with diners and restaurants. So many to choose from and a stop is generally at least an hour.  Typically, we chose to have one meal out each day – a late lunch.  We ate the free hotel breakfast and ate from our cooler and food stash in the evening.   We had a few special restaurant breakfasts.  But if you want to eat out every meal, you will have a tremendous choice in most places!
Navigation is a full-time job! We highly recommend not doing Route 66 the first time without a sidekick. Most places were pretty well marked, but supposedly the Route 66 signs get stolen frequently, so a guidebook with maps and a navigator are almost a necessity.  Don't try to read the guidebook and drive at the same time!
Aside from the very anticlimactic ending, our Route 66 trip was a fantastic adventure. It really is a drive down Main Street America with so much to see and do. It is just so different from going cross-country on the interstates. Don't put off driving the Route! You won't regret it!!
Thanks for following our blog. We hope it has been informative and inspirational.