Our Sister Club
The Auckland (New Zealand) Corvette Club: visit their website by clicking here. 
Here is a picture (link) of VCC members displaying the flag which was presented to the VCC by members of the Auckland Corvette Club while visiting Lynchburg.
Peter Dodd sent a picture (below) of his recently purchased gorgeous yellow 1968 427  convertible .
__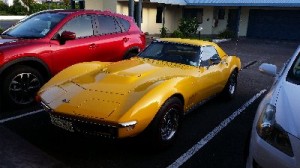 _
VCC making news in the Altavista Journal
Click here to read the article.
VIR June 2014
Check out VCC member Scott Spears on VIR! Click here for video.
VCC On WSET's Living In The Heart of VA
Vetting The Vettes – ASME
Click here for this informative article on Corvettes.
__
Floyd, VA Wrap Up
Some VCC members and the Acquia Creek Corvette Club meet to tour a private collection of cars in Floyd, VA. Sandy Thompson (ACCC Vice President) has provided a great report out of this event in her club's July Newsletter.
Click here to read about the event.
__
NCM VIR HPDE Event
Photos provided by Scott Spears and Agnes Grubbs
VCC's Scott Spears attended this event and provided the following report:
I had the best time!! Everyone there was so friendly. They treated me like family.  I went there alone and I met some very nice people.  I learned a lot about how to drive my 1992 Corvette.  It was really great to be able to drive fast and not worry about getting a ticket. The classroom training and having an instructor in the car with me was priceless.There were GM representatives there.  They brought 3 prototype 2014 Stingrays.  It breaks my heart that those 3 cars will be crushed and never released.  I was allowed to sit in the blue one. I will be planning another vacation to VIR for HPDE next year.  If you can make this event you should!  It was really phenomenal.      
     __
Click
here
for photos from this event.
National Drive Your Corvette To Work Day
Photos and report provided by Agnes Grubbs,  VCC Vice President

Today, was National Take Your Corvette to Work Day.  Some members of the club took it one step further and made it Take Your Corvette to Lunch Day.
Thank you, Pat, Jim, Robert, Judy, Dennis and Kaye for making it a good day for bringing our pride and joys out and enjoy each others company.
Photo 1, Photo 2, Photo 3, and Photo 4
Corvette Club of Richmond 17th Round Up
Report and photos provided by Dennis Newton
A little after 8 am on June 1, a caravan of VCC corvettes, complete with walkie talkies, left the Shell Station parking lot on Rt 460 just east of Farwell Airport. The destination was the Corvette Club of Richmond (CCR) 17th Corvette Round-Up at the Iron Bridge Sport Park in Chester, VA.
 After a pleasant cruise, the caravan arrived and received a warm and friendly welcome by the CCR Round-Up event staff.  Caravan members parked by generation and set up their canopies and bag chairs.  Then it was time to meet other event participants to share corvette stories and to try out the the park snack shop, go-carts, driving range, and miniature golf.
 When time came to announce awards, our VCC member Brandon Short won 3rd place in the C-4 class.
 Photo Links:  VCC Caravan Arrival 1, VCC Arrival 2, VCC Base Camp , VCC Pics by Dennis Newton
Bash At the National Corvette Museum Report
Photos and report provided by Robert Anderson,  NCM Ambassador
The 2013 Bash at the National Corvette Museum was a huge success. There were approx 1,500 participants and over $150,000 was raised for the Museum and future Motorsports Park. The first shovel goes in the ground for the Motorsports Park on June 28th.
In these pictures you will see the new C7′s, the ceremonies at the Friday night Winners Circle Program (Wendell Strode loves to show off my tattoo), in the restaurant is our Star City friends and our very own JW Burton and other friends from Northern Virginia to Alabama to Michigan . One very special picture shows me on a bench talking to a friend I have made over the years from Wilmington NC that served four tours of duty in Vietnam. There are many things to do and see at the museum, in one picture I am showing JW Burton a demo on how light the C6 ZO6 frame is. Also you can see that the museum even has a place you you to wash your Corvette once you arrive.
During the Winners Circle Friday Night Ceremony people and clubs were mentioned that gave $1,000 or more to include them in the Winners Circle. The Virginia Corvette Club was once again included because of the clubs donation. It was as always GREATLY appreciated. The Museum and the people that support it are the ones responsible for keeping the Corvette dream alive.
Click here to view photos from this fun event.
__
Cruisin' Biltmore Report
Report and photos provided by Dennis Newton
Kaye and Dennis participated in Cruisin' Biltmore 2013 sponsored by the RTP Corvette Club.  Had a great time with a bunch of fun and welcoming people.  We all Cruised to Biltmore Estate on Saturday morning for a group photo in front of the Biltmore House, then breakfast at the Biltmore Stable Café.  After breakfast, we toured the Biltmore House.  Some took an extended tour while others cruised to Hot Springs.  That evening, we all gathered at the Hilton Hotel for a tasty dinner.
Click here to view photos from this fun event.
__
Cruise Me Out To The Ballgame Results
Report and photos provided by Dennis Newton
Virginia Corvette Club hosted the Star City Corvette Club at the Lynchburg Hillcats vs Salem Red Sox game. We had over twenty ballgame enthusiasts cruise to the game in Corvettes (12 corvettes-21 adults and 4 kids from Star City Corvette Club and The Virginia Corvette Club) The Red Sox won, but we had people cheering for both teams. We were served hamburgers and hotdogs. We had great seats in the ballpark picnic area along the first base line but we did have jump out of the way of foul balls!
Click below to view photos from our fun day!
Cruise Me Out To The Ballgame – by Becky McFall