Upcoming Events
                                            (For more information on any event, click here)
March 25, 2017              Vettes and Coffee 

  –
McDonald's on Timberlake Road  8:30 am to 10:00 am
April 29, 2017                 Vettes and Coffee 

  – New London Ruritan Club, 12144 E Lynchburg Salem Turnpike, Forest, VA 24551.  This will be a display event held in conjunction with the "5th Saturday Craft Fair" to benefit Missions in Action.  Free for all Corvettes.

   
April 22, 2017                 50 Shades of Green Cruise
May 6, 2017                    Caravan to Zip Corvette Customer Appreciation Day

– Free lunch and 10% off all purchases
May 6, 2017                    Brookneal Day in the Town Car Show
May 9, 2017                    Board of Directors meeting
                             

May 13, 2017                  

Membership  Meeting 

 

– 4 PM – Campbell County Timbrook Branch Library
May 13, 2017                   Bedford County Sheriff's Dept Car Show
Dennis and Kaye Traveling Route 66 in their Red Corvette
This is the blog of the journey of Dennis Newton and Kaye Chandler as they travel in their Corvette the 2, 448 mile Route 66 from the beginning at Chicago, Illinois to the end at Santa Monica pier in California.  Click the following link:
Our Sister Club in New Zealand – 

the Auckland Corvette Club
 Visit their website by clicking here.  Here is a picture (link) of VCC members displaying the flag which was presented to the VCC by members of the Auckland Corvette Club while visiting Lynchburg.
Peter Dodd sent a picture (below) of his recently purchased gorgeous yellow 1968 427  convertible .
__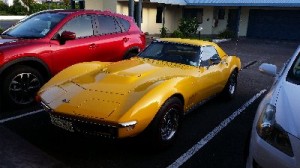 _________________________________ 
 Site Hosted by Rose Computers