I.    Pictures from VCC Events
First Chance Cruise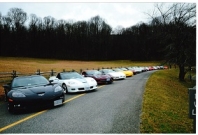 Participants in the "First Chance Cruise" on January 1, 2016 started off the year with a great cruise through the Virginia countryside ending with a social lunch. During the cruise the participants lined up their cars side by side at the Peaks of Otter Lodge (picture above).  More images from website Photo Album.
January 9 Holiday Dinner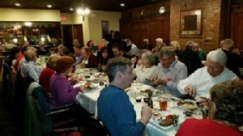 We all had fun and good food (picture above) at the "VCC Holiday Dinner" on January 9 at Crown Sterling Restaurant.  Here are more images from photo album.
MDA Car Show March 4, 5 & 6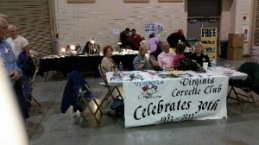 (picture left) Some of the clubs' lovely ladies staffing the VCC table at the MDA car  show (left to right Kaye, Becky, Agnes, Gabby & Cathy).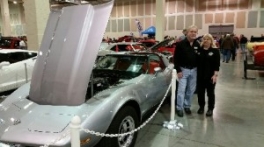 (picture right) Cathy and Nelson Web with their 1978  anniversary Corvette on display at the MDA car show.
May 7 – Zip Corvettes Customer Appreciation Day 

AND 

Brookneal Day in the Town
May 7 was a busy day for the VCC. The club had a choice of two cruises! One cruise went east to Zip Corvette Customer Appreciation Day Event and the other went south to Brookneal Day in Town Event.  Great times were had with both the cruises.
Corvette Customer Appreciation Day  (two pictures below). More pictures
Brookneal Day in the Town picture below.
II.    Upcoming 2016 VCC Events Summary
(For event details click on "VCC Events Calendar" in the above navigation bar)
July 28 (thu) – Ladies Lucheon at Noon at The Big Lick Tropical Grill. Lunch is only $7.95 and includes your beverage.  RSVP if you are attending, please!  Karin Baldwin <karin@karinbaldwin.com>
July 30  (sat) – Pink Caddy Cruise
August 13 (sat)- Mystery Cruise
   August 27 (sat) – Vettes and Coffee at 8:30 am at McDonalds on Timberlake Road (near Food Lion)
         September 17 (sat) – Paint Bank Cruise
         September 24  (sat) – Vettes and Coffee
         September 24 (sat) – Chatham Cruise-in
         October 2 (sun) – Poker run
         October 14 (fri) & 15 (sat) – Corvette Expo
 October 15 (sat) – Car Show (D Richie)
        October 29 (sat) – Vettes and Coffee
        November 5 (sat)- Fall foliage Cruise
      November 19 (sat) – Cruise (TBD)
      December 2  (fri) – VIR Charity Laps
      December 11 (sun) – Rustburg Christmas Parade
 

III. Virginia Corvette Club Meetings
August 6 (sat) – at Spring House Restaurant at 4 pm
September 10 (sat) – at Peaks of Otter
October 8 (sat) – at Bragg's House
November  11 (fri) – Annual Meeting at Hibachi Grill
IV.    The Body-off Restoration of Henry Wilson's 1966 Corvette
Click the following link:
http://virginiacorvetteclub.com/the-body-off-restoration-of-henry-wilsons-1966-corvette/
V.    Dennis and Kaye Traveling Route 66 in their Red Corvette
This is the blog of the journey of Dennis Newton and Kaye Chandler as they travel in their Corvette the 2, 448 mile Route 66 from the beginning at Chicago, Illinois to the end at Santa Monica pier in California.  Click the following link:
http://virginiacorvetteclub.com/route-66/
IV.     Announcing our New Zealand Sister Club – 

the Auckland Corvette Club!

 
Click on this (link) to visit their website.  Here is a picture (link) of VCC members displaying the flag which was presented to the VCC by members of the Auckland Corvette Club while visiting Lynchburg.
Peter Dodd sent a picture (below) of his recently purchased gorgeous yellow 1968 427  convertible .
__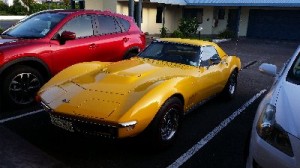 _________________________________ 
 Site Hosted by Rose Computers