Pictures from Recent Events
First Chance Cruise
Participants in the "First Chance Cruise" on January 1, 2016 started off the year with a great cruise through the Virginia countryside ending with a social lunch. During the cruise the participants lined up their cars side by side at the Peaks of Otter Lodge (picture above).  More images from website Photo Album.
January 9 Holiday Dinner
We all had fun and good food (picture above) at the "VCC Holiday Dinner" on January 9 at Crown Sterling Restaurant.  Here are more images from photo album.
       

MDA Car Show March 4, 5 & 6
  (picture left) Some of the clubs' lovely ladies staffing the VCC table at the MDA car  show (left to right Kaye, Becky, Agnes, Gabby & Cathy).
(picture right) Cathy and Nelson Web with their 1978  anniversary Corvette on display at the MDA car show.
Upcoming 2016 VCC Events Summary
(For event details click on "VCC Events Calendar" in the above navigation bar)
May 7th –

Zip Corvettes Customer Appreciation Day
Caravan to Zip Corvettes. Caravan leaves Food Lion in Madison Heights at Rt 130 and US 29 at 8 AM SHARP.  Leader of the Pack is Craig English.  Please email if you plan to attend this event.  Reserved club parking and free lunch plus 10% off all purchases at Zip that day.
May 7th –

Brookneal Day in the Town
Caravan to Brookneal. Caravan leaves Rustburg Food Lion parking lot at 9 am. Leader of the Pack is Agnes Grubbs. This is a town festival with arts and crafts and shopping and a car show.  VCC has reserved parking for this event.
May 21th & 22th /Sat & Sun
–

Lynchburg Air Show featuring the Blue Angles
Virginia Corvette Club Meetings
May 14

– at Charlie Droogs' Garage 4pm
June 3

– at Paul Lilly's house 6pm
July 9 –
August 13
September 10
October 8
November  Annual Meeting (date TBD)
 Announcing our New Zealand Sister Club –
the Auckland Corvette Club!
Click on this (link) to visit their website.  Here is a picture (link) of VCC members displaying the flag which was presented to the VCC by members of the Auckland Corvette Club while visiting Lynchburg.
Peter Dodd sent a picture (below) of his recently purchased gorgeous yellow 1968 427  convertible .
__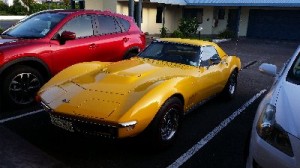 Site Hosted by Rose Computers